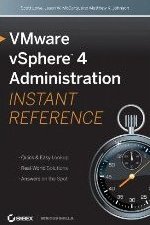 Wow.  I cannot believe it is done.
VMware vSphere 4 Administration Instant Reference has been delivered (well to me at least).
Matthew Johnson asked me to be a part of the project back in early 2009.  I wasn't sure I would have time for the project, but I definitely wanted to be a part of it.  Scott Lowe joined us a couple months later, and we then had a team.
There is quite a bit of material covering installing vSphere, upgrading to vSphere, some best practices, and quite a bit of detail for an instant reference.
I am very pleased with the outcome, and would like to thank Matthew Johnson and Scott Lowe for their work.  I would also like to thank Tom Howarth and Rich Scherer for their expert technical editing.
I am just glad to have been part of the project.
Thanks everyone!