I received a package on Friday from Chad Sakac and EMC.  I'd like to start by saying Thank You for the most excellent piece of equipment.
I didn't have much time to work with it this weekend, given that I was floating around the Gulf of Mexico when my IX4-200d arrived.  Couple the cruise with some weekend maintenance, and needless to say, I didn't have much time to fool with it.
I did get the opportunity to create a plugin to add it to my vCenter 4.0 instance.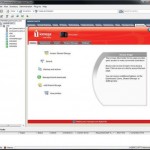 I will echo Duncan's comments on the ease of setup.  Additionally the box is well made, and extremely quiet.
I plan on putting it through some tests, as well as looking at every aspect of the services/protocols it supports.
Thanks again to Chad Sakac and EMC!