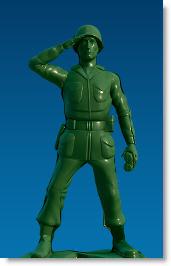 That's right, I'm going on Active Duty. Well, from one perspective, that's one way to put it.
Later this month, I will be leaving the position I have had for almost 6 years.
It has been a hard decision, but I feel it is the correct next step.
My Current Assignment
For the past 5 1/2 years, I've worked at an ASP as a Sr. Systems Engineer, and have had a blast doing it. I've worked with quite a bit of technology… I've worked with software from VMware, Microsoft, Citrix, many 3rd party solutions, and our own software. I've worked with hardware from several system and storage vendors as well. A big part of my job was to look at technology and help the decision making/design/implementation process to ensure we had the right solutions for us and our customers. As with any position, there were things I enjoyed, and things I didn't. Overall, I was in a really good position, for both the short, and the long term.
A Change of Command
The company was purchased in April, which turned out to be really good. I have been part of 4 buyouts in the past 15 years. All of the previous buyouts didn't really turn out well. This one appears to be for the better. The purchase brought new life and enthusiasm to the company. Hoo-Rah!
The Operations Team I have worked with have been true champions. These guys tackle huge tasks, and make it look easy. When grenades are tossed over the wall, you don't have to worry about someone throwing themselves on it. Everyone steps up and does what needs to get done. Plain and simple. Just like a unit should function.  Like comrades I have worked with during TDYs, I wish them the best.
With a new cadre in command, an updated battle plan, and a great team of people to work with, this has been a very difficult decision for me.
Duty Calls – My Next Assignment
So… Active Duty huh?  I have enlisted in the Army.
Not the U.S. Army, but Chad's Army.  I have been selected to become part of the EMC army, known as vSpecialists, with the mission of spreading the Virtual Computing Environment (VCE) message.  I'd like to thank Don Poorman and Scott Dougherty for giving me the opportunity to add value to the team.  I feel like I've just been selected to become part of a highly respected, virtual Special Ops team.
It isn't Active Duty in the literal sense, but it seems somewhat appropriate.  I've seen some Active Duty in my 21 years in the National Guard, and every experience has been great.  I've experienced a sense of comradery, teamwork, and focused effort, all in the spirit of accomplishing the mission. I see that in Chad's Army as well.  I am really excited, and can't wait to get my boots on the ground.
I plan on continuing this blog, with technology info in general, as well as some EMC specific content, including tips, tricks, and best practices.
My last few days at my current position are probably going to be a little busy, so bear with me.
Once I get up and running after my PCS (Permanent Change of Station), I'll report in.
Over and out.