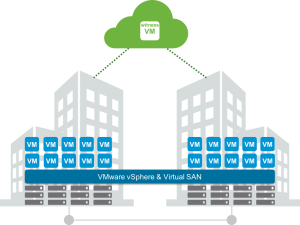 With the release of Virtual SAN 6.1 in September, Stretched Clusters and 2 Node support was introduced. There has been some general guidance given around sizing some of the bandwidth between sites, as well as between the sites and the witness.
How those bandwidth requirements are calculated hasn't been publicly available. Site to site bandwidth is based on the number of writes a workload has, while site to witness bandwidth is based on the number of Virtual SAN components on a Virtual SAN datastore.
Working with the Virtual SAN Engineering team and Virtual SAN Product Management, we've put together a white paper on how these bandwidth requirements are calculated, as well as some examples.
Download the Virtual SAN Stretched Cluster Bandwidth Sizing Guidance white paper for more information on how to size bandwidth for Stretched Clusters and 2 Node configurations.