Steve Herrod took some time to talk to the VMware vExperts at VMworld 2009 about the VMware Go offering.
In this video, Simon Seagrave of Techhead asks Steve Herrod about VMware Go, and how VMware sees it as a tool for SMB's to manage ESXi.

Note: The audio is quite low.
I have had a little opportunity to use VMware Go. I has some good points and some bad points. It is a little hard to get accustomed to when you are familiar with vCenter Server. Here's a video from VMware's site that shows how to use VMware Go.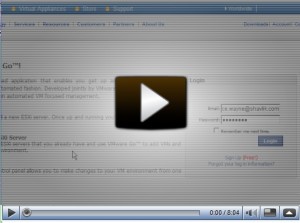 I'm not sure if VMware Go is going to give VMware a huge success in the SMB market, but as Steve Herrod says in the first video, this is the first version of this product. Maybe 2.0 will be some thing more robust.
Who knows, there was a tweet this past week indicating that a long term vCenter/vSphere client would be written in Adobe Flex. Maybe then all of those VMware customers that have been looking for a client to work in Linux or Mac OSX will rejoice.
In the mean time, I'm going to keep my eye on VMware Go, and see how good it gets. To be honest, I'd like to see a featureless free vCenter Server myself, but I don't see that happening.