In my last post, I covered how to load an Isilon Virtual Node in to VMware Workstation.
Again, check out Chad's blog for more info around how to get the Virtual Nodes here: http://virtualgeek.typepad.com/virtual_geek/2014/04/love-isilon-want-to-play-merry-xmas.html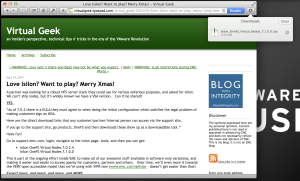 After downloading the appropriate zip, and extracting the contents, it is easy to install/configure.  With the 7.1.0.0 build:
Unzip the Isilon_OneFS_Virtual_Nodes_7.1.0.0.zip file and view the contents.
Unzip the 7.1.0.0_Virtual_Isilon.zip file and view the contents
Open the b.7.1.0.12r.vga folder to display the Virtual Node VM files (vmx, vmdk, etc.)
In VMware Fusion – Default
The Virtual Nodes are configured as Virtual Hardware v4 with 6 Linked Clones included.