Well I was looking at this blog post:
http://www.ntpro.nl/blog/archives/325-The-ultimate-ESX-3.5-white-box.html
And I thought… We've got one of those lying around.
So I figured I'd give it a try.
I added a supported nic, and was on my way. Then I realized that my D530 only had an IDE drive in it.
I installed ESX 3.5, and sure enough it griped because it didn't have any storage. On a positive note, the onboard nic was recognized by ESX. So I didn't even need to add a "supported" nic.
Well I didn't have any SATA drives or non-supported SATA RAID controllers.
So I looked at this VMTN forum post:
http://communities.vmware.com/thread/47225
To address some storage, without wanting to setup another box on the network, I followed the instructions from the PDF located in the thread: http://www.vmug.nl/downloads/VMWare_NFS_en_iSCSI.pdf
Thanks to Reinout Wijnveen for the instructions.
Despite the fact that I don't know Dutch, I was able to mull my way through the document. Sure enough, success!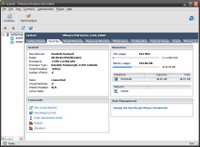 Now I've got a "free" ESX test box. Keep in mind it isn't the fastest (with a 3.0 GHz P4, and 1GB of RAM), but I can "play" without having to touch our test or production environments.