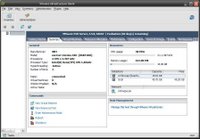 Well, it may not be supported, but ESX 3.5 does install on an IBM x440.
This isn't the first time VMware ESX has not been certified on an IBM x440.
When ESX 3.0.0 came out, there was a small outcry on the VMTN forums (by those of us that have them) about these boxes being supported, as they were close to End-Of-Life, but still represented significant investments.
I spoke with my VMware SE many times about it needing to be supported. He said that it "Should" run on it, despite the fact that it wasn't officially supported.
Several months after the initial uproar, VMware certified ESX 3.0.0 to run on an IBM x440.
Well here we are again, 3.5 just came out on 12/10/07, and yet again, the x440 was left off the hardware compatibility list.
A coworker bought a quad proc (1.4GHz Xeon) x440, for personal use, and we fired it up.
Low and behold, ESX 3.5 does install, and the VMkernel loads.
Even though the HCL recommends a minimum 1.5GHz cpu speed, the installation didn't seem to care that this box was a wee 100MHz shy of the minimum recommended cpu requirements.
He hasn't loaded any VM's on it yet, as it was late in the day, and we didn't get around to it. From initial indications, it looks like ESX 3.5 may just run on an IBM x440.
I'll post more when I get more info, as to how well this runs…