It is not uncommon for small environments to leverage the included SQL Server Express database that is included with VMware vCenter Server.
When a vCenter Server is installed in this manner, many administrators have noticed that when the vCenter Server is rebooted, from time to time, the service isn't available upon restart.  This is because the vCenter Service requires the SQL Server to be online before it can start.  This issue can be resolved by making the vCenter Service dependent on the SQL Server Express service.
There are many blog posts on how to make this change for vCenter 2.x and vCenter 4.x:
With vCenter Server 5.0, VMware has corrected the issue.
Upon installing vCenter Server 5.0 on a Windows 2008 R2 server (VM) I noticed that the dependency was taken care of.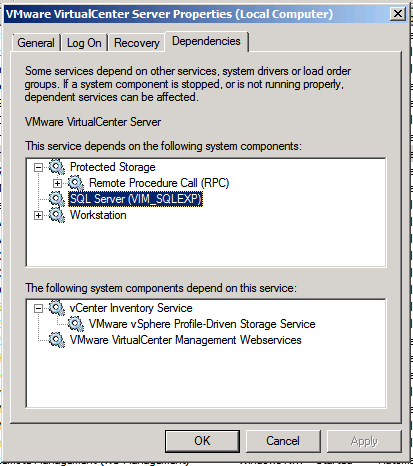 I know that many won't go the route of installing the included database, but for those that do, it is a welcome addition.