I got a sneak peek today in the VMworld 2010 Solutions Exchange.
Chad Sakac took the time to talk to me about some of what EMC is doing this year.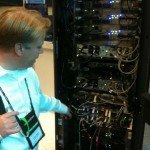 From everything that I saw, a lot of hard work has gone into the EMC booth(s).  Everyone that has been a part of the task should be proud of their work.
Thanks Chad for the quick look and looks like EMC is going to have a great show!